R D Mathis Alumina coated evaporation sources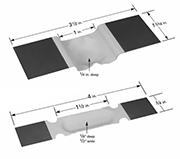 Examples of
Alumina coated
evaporation boat sources
Introduction
Alumina coated evaporation boat sources have been developed to replace alumina crucibles for specific applications. The advantages of the alumina coated boat sources are:
good heat transfer
lower power needed compared to crucibles
inert to most metals or alloys
no wetting of the alumina coating
no resistant change when the metal or alloy melts
Due to the non-wetting characteristics of the alumina coating, the evaporant forms a sphere upon melting, resulting in a point source. The lifetime of the alumina coated evaporation sources is longer than the non-coated evaporation boat sources. The alumina coated evaporation sources require some 30-50% more power than the non-coated sources to enable an evaporation process. This is due to the difference in heat conduction.
The alumina coating is semi-conductor grade and is applied to the evaporation source (boat or basket)  by a plasma spray technique. The maximum temperature for these sources is 1850°C. When evaporation is effected, the power should be reduced slightly to avoid overheating.
Alumina coated evaporation boat sources are suitable for:
Materials which would cause wetting of tungsten, tantalum or molybdenum sources
Thin film thermal evaporation processes for metalising surfaces
Production cycles with small to large amounts of evaporant
Medium and high rated power sources
R & D and product development applications
Overview
Ordering information for R D Mathis Alumina coated evaporation sources:
*Prices without VAT, but within the EU, we have to check for valid VAT-ID.
Alumina coated evaporation boat S1, raised middle part with 3mm deep trough, 102mm L x 19mm W
Product #
Unit
Price*
Add to Quote / Order
72-S1W-AO
Alumina coated tungsten evaporation source S1, 1.00 Volts, 106 Amps, 106 Watts, 1200⁰ C Temp


pkg/5
€126,60
72-S1Mo-AO
Alumina coated molybdenum evaporation source S1, 0.95 Volts, 105 Amps, 100 Watts, 1200⁰ C Temp


pkg/5
€96,40
Alumina coated evaporation boat S2B, lowered middle part with 3mm deep dimple, 89mm L x 12.7mm W
Product #
Unit
Price*
Add to Quote / Order
72-S2BW-AO
Alumina coated tungsten evaporation source S2B, 1.13 Volts, 141 Amps, 158 Watts, 1200⁰ C Temp


pkg/5
€96,40
72-S2BMo-AO
Alumina coated molybdenum evaporation source S2B, 1.12 Volts, 141 Amps, 158 Watts, 1200⁰ C Temp


pkg/5
€77,50
Alumina coated evaporation boat S3, lowered middle part with 19x6.3x3mm trough, 89mm L x 19mm W
Product #
Unit
Price*
Add to Quote / Order
72-S3W-AO
Alumina coated tungsten evaporation source S3, 0.83 Volts, 117 Amps, 97 Watts, 1200⁰ C Temp


pkg/5
€105,80
72-S3Mo-AO
Alumina coated molybdenum evaporation source S3, 0.79 Volts, 114 Amps, 90 Watts, 1200⁰ C Temp


pkg/5
€82,20
Alumina coated evaporation boat S8C with Ø16x4.8mm dimple, 102mm L x 25.4mm W
Product #
Unit
Price*
Add to Quote / Order
72-S8CW-AO
Alumina coated tungsten evaporation source S8C, 1.27 Volts, 257 Amps, 326 Watts, 1200⁰ C Temp


pkg/5
€129,50
72-S8CMo-AO
Alumina coated molybdenum evaporation source S8C, 1.31 Volts, 253 Amps, 331 Watts, 1200⁰ C Temp


pkg/5
€87,90
Alumina coated evaporation boat S9A-AO with Ø16x3mm dimple, 102mm L x 12.7mm W
Product #
Unit
Price*
Add to Quote / Order
72-S9AW-AO
Alumina coated evaporation boat S9A, 1.17 Volts, 125 Amps, 146 Watts, 1200°C , 102x12.7mm, Tungsten


pkg/5
€118,10
72-S9AMo-AO
Alumina coated molybdenum evaporation source S9A, 1.21 Volts, 130 Amps, 157 Watts, 1200⁰ C Temp


pkg/5
€69,00
Alumina coated evaporation boat S9B with Ø16x4.8mm dimple, 102mm L x 19mm W
Product #
Unit
Price*
Add to Quote / Order
72-S9BW-AO
Alumina coated evaporation boat S9B, 1.29 Volts, 190 Amps, 245 Watts, 1200°C , 102x12.7mm, Tungsten


pkg/5
€102,10
72-S9BMo-AO
Alumina coated molybdenum evaporation source S9B, 1.34 Volts, 201 Amps, 269 Watts, 1200⁰ C Temp


pkg/5
€78,40
Alumina coated evaporation boat S9C with Ø16x4.8mm dimple, 102mm L x 25.4mm W
Product #
Unit
Price*
Add to Quote / Order
72-S9CW-AO
Alumina coated evaporation boat S9C, 1.35 Volts, 268 Amps, 362 Watts, 1200°C , 102x12.7mm, Tungsten


pkg/5
€118,10
72-S9CMo-AO
Alumina coated molybdenum evaporation source S9C, 1.14 Volts, 248 Amps, 283 Watts, 1200⁰ C Temp


pkg/5
€86,90
Alumina coated evaporation boat S9F with Ø38x6.3mm dimple, 102mm L x 51mm W
Product #
Unit
Price*
Add to Quote / Order
72-S9FW-AO
Alumina coated evaporation boat S9F, 1.40 Volts, 635 Amps, 889 Watts, 1200°C , 102x12.7mm, Tungsten


pkg/5
€212,60
72-S9FMo-AO
Alumina coated molybdenum evaporation source S9F, 1.50 Volts, 586 Amps, 879 Watts, 1200⁰ C Temp


pkg/5
€155,90
Alumina coated evaporation boat S21 with 38x12.7x3mm trough, 102mm L x 19mm W, isolated hot-zone
Product #
Unit
Price*
Add to Quote / Order
72-S21W-AO
Alumina coated evaporation boat S21, 1.47 Volts, 204 Amps, 300 Watts, 1200°C , 102x12.7mm, Tungsten


pkg/5
€128,50
72-S21Mo-AO
Alumina coated molybdenum evaporation source S21, 1.34 Volts, 207 Amps, 277 Watts, 1200⁰ C Temp


pkg/5
€105,80
Alumina coated evaporation boat S29 with Ø25.4 x 6.3mm dimple, 102mm L x 30mm W, isolated hot-zone
Product #
Unit
Price*
Add to Quote / Order
72-S29W-AO
Alumina coated evaporation boat S29, 1.34 Volts, 294 Amps, 394 Watts, 1200°C , 102x12.7mm, Tungsten


pkg/5
€170,10
72-S29Mo-AO
Alumina coated molybdenum evaporation source S29, 1.41 Volts, 220 Amps, 310 Watts, 1200⁰ C Temp


pkg/5
€127,60
Alumina coated evaporation boat S35A, raised middle part with 25.4 x 12.7 x 2.4 mm trough, 82.5mm L x 12.7mm W
Product #
Unit
Price*
Add to Quote / Order
72-S35AW-AO
Alumina coated evaporation boat S35A, 0.95 Volts, 136 Amps, 129 Watts, 1200°C , 102x12.7mm, Tungsten


pkg/5
€85,10
72-S35AMo-AO
Alumina coated molybdenum evaporation source S35A, 1.05 Volts, 144 Amps, 151 Watts, 1200⁰ C Temp


pkg/5
€68,00
Alumina coated evaporation boat with 2.4mm deep through, 83x12.7mm
Product #
Unit
Price*
Add to Quote / Order
72-S35BW-AO
Alumina coated evaporation boat S35B, 0.89 Volts, 130 Amps, 116 Watts, 1200°C , 83x12.7mm, Tungsten


pkg/5
€90,70
72-S35BMo-AO
Alumina coated evaporation boat S35B, 0.90 Volts, 137 Amps, 123 Watts, 1200°C , 83x12.7mm, Molybdenum


pkg/5
€72,80
Alumina coated evaporation boat S36, raised middle part with 54 x 25.4 x 2.4 mm trough, 102mm L x 25.4mm W
Product #
Unit
Price*
Add to Quote / Order
72-S36Mo-AO
Alumina coated molybdenum evaporation source S36, 1.34 Volts, 289 Amps, 387 Watts, 1200⁰ C Temp


pkg/5
€105,80
Alumina coated evaporation boat S37, lowered middle part with Ø25.4 x 6.3mm dimple, 89mm L x 30mm W
Product #
Unit
Price*
Add to Quote / Order
72-S37Mo-AO
Alumina coated molybdenum evaporation source S37, 1.23 Volts, 326 Amps, 401 Watts, 1200⁰ C Temp


pkg/5
€106,80
Alumina coated evaporation boat S38A, raised middle part with 32 x 14 x 3mm trough, 89mm L x 19mm W
Product #
Unit
Price*
Add to Quote / Order
72-S38AW-AO
Alumina coated evaporation boat S38A, 1.20 Volts, 169 Amps, 203 Watts, 1200°C , 83x12.7mm, Tungsten


pkg/5
€117,20
72-S38AMo-AO
Alumina coated molybdenum evaporation source S38A, 1.22 Volts, 181 Amps, 221 Watts, 1200⁰ C Temp


pkg/5
€111,50
Alumina coated evaporation boat S38A, raised middle part with uncoated 32 x 14 x 3mm trough, 89mm L x 19mm W
Product #
Unit
Price*
Add to Quote / Order
72-S38BW-AO
Alumina coated evaporation boat S38B, 1.04 Volts, 156 Amps, 162 Watts, 1200°C , 83x12.7mm, Tungsten


pkg/5
€121,90
72-S38BMo-AO
Alumina coated molybdenum evaporation source S38B, 1.04 Volts, 167 Amps, 174 Watts, 1200⁰ C Temp


pkg/5
€116,20
Alumina coated evaporation boat S42B, lowered uncoated middle part with Ø19 x 6.3mm dimple, 102mm L x 25.4mm W
Product #
Unit
Price*
Add to Quote / Order
72-S42BW-AO
Alumina coated evaporation boat S42B, 1.41 Volts, 245 Amps, 345 Watts, 1200°C , 83x12.7mm, Tungsten


pkg/5
€164,40
72-S42BMo-AO
Alumina coated molybdenum evaporation source S42B, 1.35 Volts, 262 Amps, 354 Watts, 1200⁰ C Temp


pkg/5
€105,80
Alumina coated evaporation boat S45B with 16 x 44mm uncoated area, lowered middle part with 56 x 25.4 x 3mm trough, 102mm L x 25.4mm W
Product #
Unit
Price*
Add to Quote / Order
72-S45BW-AO
Alumina coated evaporation boat S45B, 1.43 Volts, 264 Amps, 378 Watts, 1200°C , 83x12.7mm, Tungsten


pkg/5
€152,10
72-S45BMo-AO
Alumina coated molybdenum evaporation source S45B, 1.27 Volts, 264 Amps, 335 Watts, 1200⁰ C Temp


pkg/5
€117,20
Alumina coated tantalum evaporation source SB3, 25 x 19 x 9.5mm trough, 52mm L x 19mm W
Product #
Unit
Price*
Add to Quote / Order
72-SB3Ta-AO
Alumina coated tantalum evaporation source SB3-AO, 1.54 Volts, 295 Amps, 454 Watts, 1200⁰ C Temp, 2.5 cm3


each
€139,90
72-SB3ATa-AO
Alumina coated single hole cap for evaporation source SB3-AO, 1.49 Volts, 345 Amps, 514 Watts, 1200⁰ C Temp, 0.13mm T Tantalum


each
€56,70
Alumina coated tantalum evaporation source S85, 51 x 19 x 9.5mm trough, 76mm L x 19mm W
Product #
Unit
Price*
Add to Quote / Order
72-SB5Ta-AO
Alumina coated tantalum evaporation source SB5-AO, 2.20 Volts, 314 Amps, 691 Watts, 1200⁰ C Temp, 2.5 cm3


each
€168,20
72-SB5ATa-AO
Alumina coated single hole cap for evaporation source SB5-AO, 1.63 Volts, 334 Amps, 544 Watts, 1200⁰ C Temp, 0.13mm T Tantalum


each
€66,20
Alumina coated molybdenum Micro-Electronics evaporation source ME3, 0.005 inch/0.127mm
Product #
Unit
Price*
Add to Quote / Order
72-ME3Mo-AO
Alumina coated molybdenum Micro-Electronics evaporation source ME3, 0.86 Volts, 151 Amps, 130 Watts, 1200⁰ C Temp


pkg/5
€69,00
Alumina coated molybdenum Micro-Electronics evaporation source ME4
Product #
Unit
Price*
Add to Quote / Order
72-ME4Mo-AO
Alumina coated molybdenum Micro-Electronics evaporation source ME4, 0.83 Volts, 116 Amps, 96 Watts, 1200⁰ C Temp


pkg/5
€58,60
Alumina coated molybdenum Micro-Electronics evaporation source ME6B
Product #
Unit
Price*
Add to Quote / Order
72-ME6BMo-AO
Alumina coated molybdenum Micro-Electronics evaporation source ME6B, 0.84 Volts, 106 Amps, 89 Watts, 1200⁰ C Temp


pkg/5
€59,50
Alumina coated molybdenum Micro-Electronics evaporation source ME9
Product #
Unit
Price*
Add to Quote / Order
72-ME9Mo-AO
Alumina coated molybdenum Micro-Electronics evaporation source ME9, 0.80 Volts, 83 Amps, 66 Watts, 660⁰ C Temp


pkg/5
€69,90
Alumina coated tantalum Micro-Electronics evaporation source ME22
Product #
Unit
Price*
Add to Quote / Order
72-ME22Ta-AO
Alumina coated tantalum evaporation source ME22-AO, 1.30 Volts, 259 Amps, 337 Watts, 1200⁰ C Temp, 2.5 cm3


each
€68,00
72-ME22ATa-AO
Alumina coated single hole cap for evaporation source ME22-AO, Tantalum


each
€52,90