R D Mathis Tungsten heater filaments
resistive heating filaments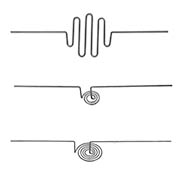 Examples of Tungsten
heater filaments
Introduction
Tungsten heater filaments are used in high vacuum thin film deposition systems to either heat a small crucible of the heat a substrate discs. The substrate needs to be positioned on the filament coil; for substrate heating temperatures chosen tend to be up to several 100 ° and can be used to influence the properties of the deposited film. Available with two tungsten wire diameters: Ø1mm and Ø1.5mm.



Ordering information for R D Mathis Tungsten heater filaments:
*Prices without VAT, but within the EU, we have to check for valid VAT-ID.
Heater filament H1 with Ø32 mm area , flat, 127mm long, tungsten
Product #
Unit
Price*
Add to Quote / Order
72-H1W-1
Heating filament H1, 7.90 Volts, 31 Amps, 245 Watts, 1800⁰ C Temp, 1 x tungsten wire Ø1mm


pkg/5
€101,10
72-H1W-1.5
Heating filament H1, 6.10 Volts, 71 Amps, 433 Watts, 1800⁰ C Temp, 1 x tungsten wire Ø1.5mm


pkg/5
€104,00
Heater filament H2 with Ø12.7 mm area , 12.7mm deep, 127mm long, tungsten
Product #
Unit
Price*
Add to Quote / Order
72-H2W-1
Heating filament H2, 4.18 Volts, 36 Amps, 150 Watts, 1800⁰ C Temp, 1 x tungsten wire Ø1mm


pkg/5
€91,70
72-H2W-1.5
Heating filament H2, 2.83 Volts, 69 Amps, 195 Watts, 1800⁰ C Temp, 1 x tungsten wire Ø1.5mm


pkg/5
€96,40
Heater filament H3 with Ø22 mm area , 12.7mm deep, 127mm long, tungsten
Product #
Unit
Price*
Add to Quote / Order
72-H3W-1
Heating filament H3, 7.39 Volts, 34 Amps, 251 Watts, 1800⁰ C Temp, 1 x tungsten wire Ø1mm


pkg/5
€98,30
72-H3W-1.5
Heating filament H3, 5.22 Volts, 63 Amps, 329 Watts, 1800⁰ C Temp, 1 x tungsten wire Ø1.5mm


pkg/5
€107,70