Green PET polyester mylar tapes
high temperature tapes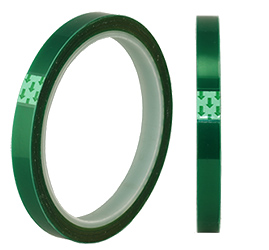 Introduction
The single sided green PET lab tape consists of a polyester (mylar) film with a silicone adhesive. It is also known as anodising or powder coating masking tape. The tape is self-wound without a liner. Advantages of the green PET lab tape are:
low adhesive tranfer
leaves clean surfaces after removal
low outgassing under vacuum
excellent masking properties
temperature resistance up to 200°C
can be easily removed
suitable for temporary or transfer applications
If used as temporary tape or transfer tape, only apply minimal pressure. The green PET lab tape is an economical alternative for Kapton tape in less demanding applications and when temperatures are lower than 200°C. With the thicker film and the lower adhesion properties of the silicone based adhesive, the tape is easy to remove and leaves clean surfaces.

Applications
masking for vacuum deposition
masking for powder coating and anodising
holding samples or parts in high vacuum
positioning tape
general laboratory tape
transfer tape
temporary sealing tape.
Available in widths from 6 to 50mm with a length of 20m. Clean 76mm diameter plastic core.

Specificationsof the single sided green PET -polyester (Mylar) tape
| | |
| --- | --- |
| Tape material | PET – polyester (mylar) |
| Colour | Green tinted |
| Adhesive | Silicone adhesive |
| Film thickness | 0.05mm |
| Adhesive thickness | 0.04mm |
| Total tape thickness | 0.09mm |
| Adhesive strength | 10N / 25mm |
| Tape strength | 135 kPa |
| Dielectric strength | 4.5 kV |
| Use temperature range | -20 to +204 °C |
| Length | 33m |
| Core diameter | 76mm (3") |
Ordering information for green PET polyester mylar tapes
*Prices without VAT, but within the EU, we have to check for valid VAT-ID.
| | Green Mylar PET polyester lab tape, single sided |
| --- | --- |
Product #
Unit
Price*
Add to Quote / Order
71-000306
Green Mylar PET polyester lab tape 6mm x 33m


each
€6,50
71-000310
Green Mylar PET polyester lab tape 10mm x 33m


each
€8,50
71-000315
Green Mylar PET polyester lab tape 15mm x 33m


each
€9,50
71-000320
Green Mylar PET polyester lab tape 20mm x 33m


each
€12,25
71-000325
Green Mylar PET polyester lab tape 25mm x 33m


each
€13,50
71-000350
Green Mylar PET polyester lab tape 50mm x 33m


each
€24,50