R D Mathis heat shielded crucible heaters
compact, efficient crucible heaters
Introduction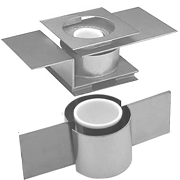 The RD Mathis shielded crucible heaters have been developed to provided uniform heating to the installed crucible, to allow very high deposition rates and to achieve high temperatures up to 1600°C. Due to their robust and rigid construction, both heater and crucible life are extended. The thermal shielding increased efficiency and is beneficial in greatly reducing the radiant heat exposure to substrates and components in the vacuum system. The crucible heaters are made from tantalum, leads and shield are made from Niobium.
They can be used for upwards evaporation only. The heat shielded crucible heaters are suitable for:
Thin film production processes for metalising surfaces
Depositing thicker films
Small scale production systems
R & D and product development applications
The RD Mathis compatible crucibles can be found on: RD Mathis compatible crucibles
Ordering information for R D Mathis Tungsten heat shielded crucible heaters
.
*Prices without VAT, but within the EU, we have to check for valid VAT-ID.
Shielded crucible heater CH-1 for crucibles C1 and C9, 70mm L x 32mm W x 16mm H
Product #
Unit
Price*
Add to Quote / Order
72-CH1
Crucible heater CH-1 for crucible C1, 1.34 Volts, 273 Amps, 366 Watts, 1600⁰ C Temp


each
€139,90
Shielded crucible heater CH-5 for crucible C5, 102mm L x 44mm W x 29mm H
Product #
Unit
Price*
Add to Quote / Order
72-CH5
Crucible heater CH-5 for crucible C5, 1.79 Volts, 346 Amps, 619 Watts, 1600⁰ C Temp


each
€257,00
Shielded crucible heater CH-7 for crucible C7, 70mm L x 32mm W x 32mm H
Product #
Unit
Price*
Add to Quote / Order
72-CH7
Crucible heater CH-7 for crucible C7, 1.47 Volts, 187 Amps, 275 Watts, 1600⁰ C Temp


each
€234,40
Shielded crucible heater CH-8 for crucible C8, 73mm L x 35mm W x 41mm H
Product #
Unit
Price*
Add to Quote / Order
72-CH8
Crucible heater CH-8 for crucible C8, 1.73 Volts, 199 Amps, 344 Watts, 1600⁰ C Temp


each
€272,20
Shielded crucible heater CH-9 for crucible C10, 76mm L x 12.7mmm W
Product #
Unit
Price*
Add to Quote / Order
72-CH9
Crucible heater CH-9 for crucible C9, 1.93 Volts, 191 Amps, 369 Watts, 1600⁰ C Temp


each
€94,50
Shielded crucible heater CH-10 for crucibles C1 and C9, 76mm L x 16mm
Product #
Unit
Price*
Add to Quote / Order
72-CH10
Crucible heater CH-10 for crucible C1 and C9, 1.70 Volts, 191 Amps, 325 Watts, 1600⁰ C Temp


each
€85,10
Shielded crucible heater CH-11 for crucibles C1 and C9, 76mm L x 16mm W, vertical leads
Product #
Unit
Price*
Add to Quote / Order
72-CH11
Crucible heater CH-11 for crucible C1 and C9, 1.70 Volts, 191 Amps, 325 Watts, 1600⁰ C Temp


each
€102,10
Shielded crucible heater CH-12 for crucible C5, 89mm L x 29mm W
Product #
Unit
Price*
Add to Quote / Order
72-CH12
Crucible heater CH-12 for crucible C5, 2.19 Volts, 339 Amps, 742 Watts, 1600⁰ C Temp


each
€172,00
Shielded crucible heater CH-13 for crucible C5, 89mm L x 29mm W, vertical leads
Product #
Unit
Price*
Add to Quote / Order
72-CH13
Crucible heater CH-13 for crucible C5, 2.19 Volts, 339 Amps, 742 Watts, 1600⁰ C Temp


each
€164,40
Shielded crucible heater CH-14 for crucible C6, 127mm L x 41mm W
Product #
Unit
Price*
Add to Quote / Order
72-CH14
Crucible heater CH-14 for crucible C6, 3.82 Volts, 525 Amps, 2006 Watts, 1600⁰ C Temp


each
€275,90