R D Mathis Tungsten point source loop filaments
thermal vacuum evaporation point sources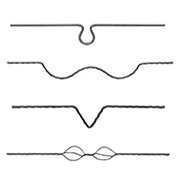 examples of
point source loop filaments
Introduction
The RD Mathis point source loop filaments are designed for use as point sources for thermal vacuum evaporation systems. They are used for evaporating small pieces of metal wire which can be hanged in the loop or wrapped around the wire at the loop. The point source loop filaments are all made from tungsten wires in various thicknesses. Available as single strand sources and sources with 3 or 4 strands.
They can be used for upwards and sideways evaporation processes. Downwards evaporation is only advised when the substrate is not directly positioned under the evaporation point source filament. These point sources are suitable for:
thin film processes that require small amounts of evaporant
small amounts of expensive materials
R & D and product development applications
sample preparation applications
Ordering information for Tungsten point source loop filaments
.
*Prices without VAT, but within the EU, we have to check for valid VAT-ID.
Point source loop filament P1, Tungsten
Product #
Unit
Price*
Add to Quote / Order
72-P1W-1.5
Point loop source filament P1, 2.08 Volts, 73 Amps, 152 Watts, 1800⁰ C Temp, 1 x tungsten strand Ø1.52mm


pkg/5
€44,70
72-P1W3-1.9
Point loop source filament P1, 2.95 Volts, 50 Amps, 148 Watts, 1800⁰ C Temp, 3 x tungsten strand Ø0.64mm


pkg/5
€27,70
72-P1W3-2.3
Point loop source filament P1, 2.36 Volts, 65 Amps, 153 Watts, 1800⁰ C Temp, 3 x tungsten strand Ø0.76mm


pkg/5
€34,00
72-P1W4-3
Point loop source filament P1, 2.76 Volts, 80 Amps, 221 Watts, 1800⁰ C Temp, 4 x tungsten strand Ø0.76mm


pkg/5
€42,80
Point source loop filament P2, Tungsten
Product #
Unit
Price*
Add to Quote / Order
72-P2W-1.5
Point loop source filament P2, 1.84 Volts,75 Amps, 138 Watts, 1800⁰ C Temp, 1 x tungsten strand Ø1.52mm


pkg/5
€45,40
72-P2W3-1.9
Point loop source filament P2, 2.83 Volts, 48 Amps, 136 Watts, 1800⁰ C Temp, 3 x tungsten strand Ø0.64mm


pkg/5
€29,00
72-P2W3-2.3
Point loop source filament P2, 3.56 Volts, 78 Amps, 278 Watts, 1800⁰ C Temp, 3 x tungsten strand Ø0.76mm


pkg/5
€35,30
72-P2W4-3
Point loop source filament P2, 2.04 Volts, 82 Amps, 167 Watts, 1800⁰ C Temp, 4 x tungsten strand Ø0.76mm


pkg/5
€43,50
Point source loop filament P3, Tungsten
Product #
Unit
Price*
Add to Quote / Order
72-P3W-1.5
Point loop source filament P3, 1.39 Volts,79 Amps, 110 Watts, 1800⁰ C Temp, 1 x tungsten strand Ø1.52mm


pkg/5
€39,10
72-P3W3-1.9
Point loop source filament P3, 2.26 Volts, 50 Amps, 113 Watts, 1800⁰ C Temp, 3 x tungsten strand Ø0.64mm


pkg/5
€29,00
72-P3W3-2.3
Point loop source filament P3, 1.94 Volts, 64 Amps, 124 Watts, 1800⁰ C Temp, 3 x tungsten strand Ø0.76mm


pkg/5
€34,00
72-P3W4-3
Point loop source filament P3, 1.59 Volts, 84 Amps, 134 Watts, 1800⁰ C Temp, 4 x tungsten strand Ø0.76mm


pkg/5
€40,30
Point source loop filament P4, Tungsten
Product #
Unit
Price*
Add to Quote / Order
72-P4W-1.5
Point loop source filament P4, 2.04 Volts, 74 Amps, 151 Watts, 1800⁰ C Temp, 1 x tungsten strand Ø1.52mm


pkg/5
€42,80
72-P4W3-1.9
Point loop source filament P4, 3.20 Volts, 51 Amps, 163 Watts, 1800⁰ C Temp, 3 x tungsten strand Ø0.64mm


pkg/5
€34,00
72-P4W3-2.3
Point loop source filament P4, 2.04 Volts, 64 Amps, 131 Watts, 1800⁰ C Temp, 3 x tungsten strand Ø0.76mm


pkg/5
€37,80
72-P4W4-3
Point loop source filament P4, 2.69 Volts, 80 Amps, 215 Watts, 1800⁰ C Temp, 4 x tungsten strand Ø0.76mm


pkg/5
€43,50
Point source loop filament P5, Tungsten
Product #
Unit
Price*
Add to Quote / Order
72-P5W-1
Point loop source filament P5, 3.44 Volts, 40 Amps, 138 Watts, 1800⁰ C Temp, 1 x tungsten strand Ø1mm


pkg/5
€44,70
72-P5W-1.5
Point loop source filament P5, 3.09 Volts, 71 Amps, 219 Watts, 1800⁰ C Temp, 1 x tungsten strand Ø1,52mm


pkg/5
€45,40
72-P5W3-1.9
Point loop source filament P5, 3.80 Volts, 51 Amps, 194 Watts, 1800⁰ C Temp, 3 x tungsten strand Ø0.64mm


pkg/5
€52,90
72-P5W3-2.3
Point loop source filament P5, 3.50 Volts, 66 Amps, 231 Watts, 1800⁰ C Temp, 3 x tungsten strand Ø0.76mm


pkg/5
€54,80
72-P5W4-3
Point loop source filament P5, 3.13 Volts, 79 Amps, 247 Watts, 1800⁰ C Temp, 4 x tungsten strand Ø0.76mm


pkg/5
€61,70
Point source loop filament P6, Tungsten
Product #
Unit
Price*
Add to Quote / Order
72-P6W-1
Point loop source filament P6, 1.94 Volts, 42 Amps, 81 Watts, 1800⁰ C Temp, 1 x tungsten strand Ø1mm


pkg/5
€44,70
72-P6W-1.5
Point loop source filament P6, 1.46 Volts, 75 Amps, 109 Watts, 1800⁰ C Temp, 1 x tungsten strand Ø1,52mm


pkg/5
€45,40
72-P6W3-1.9
Point loop source filament P6, 2.08 Volts, 51 Amps, 106 Watts, 1800⁰ C Temp, 3 x tungsten strand Ø0.64mm


pkg/5
€37,80
Point source loop filament P7, Tungsten
Product #
Unit
Price*
Add to Quote / Order
72-P7W3-2.3
Point loop source filament P7, 2.78 Volts, 69 Amps, 192 Watts, 1800⁰ C Temp, 3 x tungsten strand Ø0.76mm


pkg/3
€56,70
72-P7W4-3
Point loop source filament P7, 2.42 Volts, 87 Amps, 211 Watts, 1800⁰ C Temp, 4 x tungsten strand Ø0.76mm


pkg/3
€62,40
Point source lay wire filament P8, Tungsten
Product #
Unit
Price*
Add to Quote / Order
72-P8W3-1.9
Point source lay wire filament P8, 9.48 Volts, 54 Amps, 512 Watts, 1800⁰ C Temp, 3 x tungsten strand Ø 0.64mm, 1.5 meter long


1.5 meter
€70,90
72-P8W3-2.3
Point source lay wire filament P8, 8.28 Volts, 72 Amps, 596 Watts, 1800⁰ C Temp, 3 x tungsten strand Ø 0.76mm, 1.5 meter long


1.5 meter
€80,30