Micro-Tec metallographic embedding clips
ideal for holding thin samples and making cross sections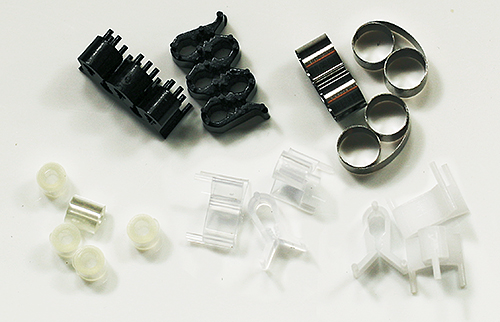 Micro-Tec metallographic embedding clips
Introduction
The Micro-Tec embedding clips are designed to hold thin samples for cold or hot embedding. The Micro-Tec clips hold the sample vertical and stable during embedding and curing of the resin.  Ideal for embedding thin samples and cross sectioning. To be used with samples like printed circuit boards, Si chips, foils, sheets, thin batteries, paper, etc. The available embedding clips are:
Order information for Micro-Tec metallographic embedding clips
*Prices without VAT, but within the EU, we have to check for valid VAT-ID.
| | Micro-Tec C7 stainless steel coil embedding clip |
| --- | --- |
| Product # | Unit | Price* | Add to Quote / Order |
| --- | --- | --- | --- |
| 29-002010 | pkg/100 | €32,50 | |
| | Micro-Tec C6 PET plastic coil embedding clip |
| --- | --- |
| Product # | Unit | Price* | Add to Quote / Order |
| --- | --- | --- | --- |
| 29-002020 | pkg/100 | €19,50 | |
| | Micro-Tec T1C transparent PE plastic embedding T clip for single thin sample |
| --- | --- |
| Product # | Unit | Price* | Add to Quote / Order |
| --- | --- | --- | --- |
| 29-002030 | pkg/100 | €28,50 | |
| | Micro-Tec T1W white nylon plastic embedding T clip for single thin sample |
| --- | --- |
| Product # | Unit | Price* | Add to Quote / Order |
| --- | --- | --- | --- |
| 29-002040 | pkg/100 | €24,50 | |
| | Micro-Tec T1B black nylon plastic embedding T clip for single thin sample |
| --- | --- |
| Product # | Unit | Price* | Add to Quote / Order |
| --- | --- | --- | --- |
| 29-002045 | pkg/100 | €24,50 | |
| | Micro-Tec S5B black nylon plastic multiple embedding S clip for up to 5 thin samples |
| --- | --- |
| Product # | Unit | Price* | Add to Quote / Order |
| --- | --- | --- | --- |
| 29-002050 | pkg/25 | €15,50 | |