EM-Tec KF - NW - QF vacuum
connection hardware, components and parts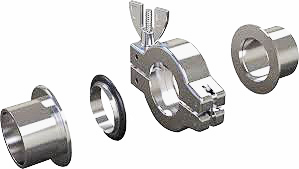 KF vacuum flange - KF seal - KF hinged clamp-KF vacuum flange
Introduction
The EM-Tec standard KF vacuum flange hardware components and parts are directly compatible with all KF, NW of QF vacuum flange hardware connections. Interchangeable designations for these standard rough and medium vacuum flange connections are: KF, DN-KF, ISO-KF, NW, ISO-NW, QF and DN. The standard sizes offered are:
DN10KF (adapts to DN16KF)
DN16KF
DN25KF
DN40KF
DN50KF
Most components are offered in stainless steel. However, for adapters vacuum grade aluminium alloys are sometimes preferred. The standard KF vacuum flange hardware is extensively used to connect vacuum components and can be found on vacuum coating systems, electron microscopes, vacuum ovens, vacuum pumps, vacuum equipment, vacuum gauges etc.

Dimensions of DN-KF flanges
Dimensions in mm

DN10KF

DN16KF

DN25KF

DN40KF

DN50KF

Flange OD ØA

30

30

40

55

75

Centering seal ØB

12.2

17.2

26.2

41.2

52.4

Vacuum line ID ØC

10

16

24

40.5

51

Vacuum line OD ØD

14

20

28

44.5

57

DN-KF-NW vacuum components:
Ordering information
*Prices without VAT, but within the EU, we have to check for valid VAT-ID.
| | EM-Tec KF vacuum flange DN10/16KF adaptive seal from KF10 to KF16 with 304 stainless steel centering ring with Viton O-ring |
| --- | --- |
Product #
Unit
Price*
Add to Quote / Order
61-110011-10
DN10/16KF adaptive seal from KF10 to KF16 with 304 stainless steel centering ring with Viton O-ring


each
€10,00
| | EM-Tec KF vacuum flange seals with 304 stainless steel centering ring with Viton O-ring |
| --- | --- |
Product #
Unit
Price*
Add to Quote / Order
61-110010-16
DN16KF seal with 304 stainless steel centering ring with Viton O-ring


each
€6,75
61-110010-25
DN25KF seal with 304 stainless steel centering ring with Viton O-ring


each
€8,45
61-110010-40
DN40KF seal with 304 stainless steel centering ring with Viton O-ring


each
€10,00
61-110010-50
DN50KF seal with 304 stainless steel centering ring with Viton O-ring


each
€11,90
| | EM-Tec KF centering ring with screen plate, 0.4mm holes, 28 mesh, 304 stainless steel and Viton O-ring |
| --- | --- |
Product #
Unit
Price*
Add to Quote / Order
61-110013-16
EM-Tec DN16KF centering ring with screen plate, 0.4mm holes, 28 mesh, 304 stainless steel and Viton O-ring


each
€11,50
61-110013-25
EM-Tec DN25KF centering ring with screen plate, 0.4mm holes, 28 mesh, 304 stainless steel and Viton O-ring


each
€12,90
| | EM-Tec replacement O-rings for worn or damaged centering seals |
| --- | --- |
Product #
Unit
Price*
Add to Quote / Order
61-010011-16
DN16KF replacement O-ring for KF16 centering ring, NBR


pkg/10
€5,00
61-010011-25
DN25KF replacement O-ring for KF25 centering ring, NBR


pkg/10
€5,50
61-010011-40
DN40KF replacement O-ring for KF40 centering ring, NBR


pkg/10
€6,50
61-010011-50
DN50KF replacement O-ring for KF50 centering ring, NBR


pkg/10
€7,50
| | EM-Tec Flextube 16 thick walled clear PVC wire reinforced vacuum hose, Ø 16 x Ø 23 mm, per m lenght |
| --- | --- |
Product #
Unit
Price*
Add to Quote / Order
61-010035-1
EM-Tec Flextube 16 thick walled clear PVC wire reinforced vacuum hose, Ø 16 x Ø 23 mm, 1 mtr lenght


1 meter
€6,40
61-010035-2
EM-Tec Flextube 16 thick walled clear PVC wire reinforced vacuum hose, Ø 16 x Ø 23 mm, 2 mtr lenght


2 meter
€12,80
61-010035-3
EM-Tec Flextube 16 thick walled clear PVC wire reinforced vacuum hose, Ø 16 x Ø 23 mm, 3 mtr lenght


1 meter
€19,20
61-010035-4
EM-Tec Flextube 16 thick walled clear PVC wire reinforced vacuum hose, Ø 16 x Ø 23 mm, 4 mtr lenght


4 meter
€25,60
61-010035-5
EM-Tec Flextube 16 thick walled clear PVC wire reinforced vacuum hose, Ø 16 x Ø 23 mm, 5 mtr lenght


5 meter
€32,00
61-010035-10
EM-Tec Flextube 16 thick walled clear PVC wire reinforced vacuum hose, Ø 16 x Ø 23 mm, 10 mtr lenght


10 meter
€61,00
| | EM-Tec KF vacuum flange centering seals with aluminium centering ring with NBR O-ring |
| --- | --- |
Product #
Unit
Price*
Add to Quote / Order
61-010010-16
EM-Tec DN16KF seal with aluminium centering ring with NBR O-ring


each
€4,20
61-010010-25
EM-Tec DN25KF seal with aluminium centering ring with NBR O-ring


each
€4,50
| | EM-Tec KF vacuum flange quick release hinged wing nut clamp, aluminium |
| --- | --- |
Product #
Unit
Price*
Add to Quote / Order
61-010015-16
DN16KF quick release hinged wing nut clamp, aluminium


each
€8,00
61-010015-25
DN25KF quick release hinged wing nut clamp, aluminium


each
€8,00
61-010015-40
DN40KF quick release hinged wing nut clamp, aluminium


each
€8,00
61-010015-50
DN50KF quick release hinged wing nut clamp, aluminium


each
€9,00
| | EM-Tec Flextube 25 thick walled clear PVC wire reinforced vacuum hose, Ø 25 x Ø 33 mm, per m lenght |
| --- | --- |
Product #
Unit
Price*
Add to Quote / Order
61-010037-1
EM-Tec Flextube 25 thick walled clear PVC wire reinforced vacuum hose, Ø 25 x Ø 33 mm, 1 mtr lenght


1 meter
€8,50
61-010037-2
EM-Tec Flextube 25 thick walled clear PVC wire reinforced vacuum hose, Ø 25 x Ø 33 mm, 2 mtr lenght


2 meter
€17,00
61-010037-3
EM-Tec Flextube 25 thick walled clear PVC wire reinforced vacuum hose, Ø 25 x Ø 33 mm, 3 mtr lenght


3 meter
€25,50
61-010037-4
EM-Tec Flextube 25 thick walled clear PVC wire reinforced vacuum hose, Ø 25 x Ø 33 mm, 4 mtr lenght


4 meter
€34,00
61-010037-5
EM-Tec Flextube 25 thick walled clear PVC wire reinforced vacuum hose, Ø 25 x Ø 33 mm, 5 mtr lenght


5 meter
€39,50
61-010037-10
EM-Tec Flextube 25 thick walled clear PVC wire reinforced vacuum hose, Ø 25 x Ø 33 mm, 10 mtr lenght


10 meter
€76,50
| | EM-Tec blank flange, 304 stainless steel |
| --- | --- |
Product #
Unit
Price*
Add to Quote / Order
61-110012-16
DN16KF blank flange, 304 stainless steel


each
€5,25
61-110012-25
DN25KF blank flange, 304 stainless steel


each
€5,45
61-110012-40
DN40KF blank flange, 304 stainless steel


each
€6,75
61-110012-50
DN50KF blank flange, 304 stainless steel


each
€10,45
| | EM-Tec conical vacuum reducers from DN40KF to DN25KF or DN16KF and from DN25KF or DN16KF, 304 stainless steel, 40mm longg |
| --- | --- |
Product #
Unit
Price*
Add to Quote / Order
61-110014-1625
EM-Tec conical vacuum reducer from DN25KF to DN16KF, 304 stainless, 40mm long


each
€24,50
61-110014-1640
EM-Tec conical vacuum reducer from DN40KF to DN16KF, 304 stainless, 40mm long


each
€36,50
61-110014-2540
EM-Tec conical vacuum reducer from DN40KF to DN25KF, 304 stainless, 40mm long


each
€37,50
| | EM-Tec DN-KF 90 degrees elbow, 304 stainless steel |
| --- | --- |
Product #
Unit
Price*
Add to Quote / Order
61-110016-16
EM-Tec DN16KF 90 degrees elbow, L = 40 mm, 304 stainless steel


each
€17,50
61-110016-25
EM-Tec DN25KF 90 degrees elbow, L = 50 mm, 304 stainless steel


each
€19,50
| | EM-Tec DN-KF equal T connector, 304 stainless steel |
| --- | --- |
Product #
Unit
Price*
Add to Quote / Order
61-110018-16
EM-Tec DN16KF equal T connector, L = 80mm, H = 42 mm, 304 stainless steel


each
€29,50
61-110018-25
EM-Tec DN25KF equal T connector, L = 100mm, H = 55 mm, 304 stainless steel


each
€36,50
| | EM-Tec DN-KF manual vent valve, 304 stainless steel |
| --- | --- |
Product #
Unit
Price*
Add to Quote / Order
61-110028-16
EM-Tec DN16KF manual vent valve, H = 40mm, 304 stainless steel


each
€34,50
61-110028-25
EM-Tec DN25KF manual vent valve, H = 44mm, 304 stainless steel


each
€37,50
| | EM-Tec DN16KF vacuum flange hose adapters, 304 stainless steel |
| --- | --- |
Product #
Unit
Price*
Add to Quote / Order
61-110020-06
DN16KF hose adapter for 6mm ID hose, L=35mm, 304 stainless steel


each
€10,50
61-110020-16
DN16KF hose adapter for 16mm ID hose, L=35mm, 304 stainless steel


each
€12,50
| | EM-Tec DN25KF vacuum flange hose adapters, 304 stainless steel |
| --- | --- |
Product #
Unit
Price*
Add to Quote / Order
61-110022-06
DN25KF hose adapter for 6mm ID hose, L = 35mm, 304 stainless steel


each
€12,50
61-110022-16
DN25KF hose adapter for 16mm ID hose, L = 35mm, 304 stainless steel


each
€13,50
61-110022-25
DN25KF hose adapter for 25mm ID hose, L=35mm, 304 stainless steel


each
€14,75
| | EM-Tec DN-KF straight through tube, 304 stainless steel |
| --- | --- |
Product #
Unit
Price*
Add to Quote / Order
61-110019-16
EM-Tec DN16KF straight through tube, L = 100 mm, 304 stainless steel


each
€25,50
61-110019-25
EM-Tec DN25KF straight through tube, L = 100 mm, 304 stainless steel


each
€31,50