Micro-Tec MET-C conductive hot embedding resin powder
ideal for SEM, EDS, WDS and electro etching applications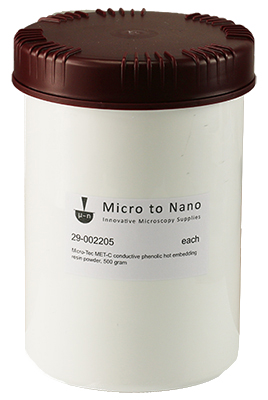 Micro-Tec MET-C conductive hot embedding resin powder
Introduction
Micro-Tec MET-C is a graphite filled conductive thermosetting phenolic compression mounting resin. The low electrical resistance of this hot embedding resin makes it ideally suited for embedding sample used with the following applications:
SEM imaging
EDS analysis
WDS analysis
electrolytic polishing and etching
For SEM/EDS applications there is no need to coat embedded conductive samples with a conductive gold or carbon coating which improves the accuracy of quantitative X-ray analysis and saves time. Ideally suited for studies at the edge of the sample. Micro-Tec MET-C comes in ready mixed powder form, is black in colour and includes mineral particles to improve edge retention. The conductivity is provided by graphite powder. Micro-Tec MET-C is to be used in a hot embedding press. Embedding temperature is 160-190° C with a nominal pressure of 25 MPA (3300PSI). Typical curing time is 6-10 minutes. Micro-Tec MET-C is supplied in a container with 500gram resin powder.
Order information for Micro-Tec MET-C conductive hot embedding resin powder
*Prices without VAT, but within the EU, we have to check for valid VAT-ID.
| | Micro-Tec MET-C conductive phenolic hot embedding resin powder, black, 500 gram |
| --- | --- |
Product #
Unit
Price*
Add to Quote / Order
29-002205
500g
€38,50



Hazardous Symbol Explanation

= Hazard Shipping Fee

Cg

= Suspected Carcinogen

F

= Flammable

I

= Irritant

S

= Sensitizer

T

= Toxic

Extra info 29-002205 :

SDS