Micro-Tec Silicone Mold Cups for Metallographic Embedding
blue silicone flexible embedding cup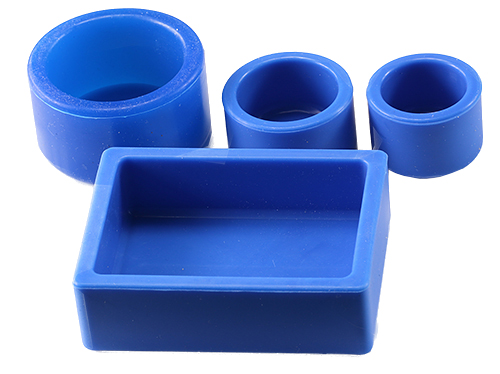 Micro-Tec Silicone Mold Cups for Metallographic Embedding
Introduction
The Micro-Tec blue silicone embedding cups are used for metallographic embedding with cold embedding resins. The multi-use Micro-Tec blue silicone does not adhere to embedding resins and does not require a releasing agent. This is ideal for porous samples to avoid contamination with mold release.  The flexible silicone cups allow for easy removal of the hardened mounts. The available Micro-Tec blue silicone embedding mold cups are:
Order information for Micro-Tec Silicone Mold Cups for Metallographic Embedding
*Prices without VAT, but within the EU, we have to check for valid VAT-ID.
| | Micro-Tec MC25 blue silicone embedding mold cup, Ø25x18mm |
| --- | --- |
| Product # | Unit | Price* | Add to Quote / Order |
| --- | --- | --- | --- |
| 29-002125 | pkg/5 | €27,50 | |
| | Micro-Tec MC30 blue silicone embedding mold cup, Ø30x18mm |
| --- | --- |
| Product # | Unit | Price* | Add to Quote / Order |
| --- | --- | --- | --- |
| 29-002130 | pkg/5 | €29,50 | |
| | Micro-Tec MC40 blue silicone embedding mold cup , Ø40x25mm |
| --- | --- |
| Product # | Unit | Price* | Add to Quote / Order |
| --- | --- | --- | --- |
| 29-002140 | pkg/5 | €31,50 | |
| | Micro-Tec MC75 large rectangular blue silicone embedding mold, 75x50x20mm |
| --- | --- |
| Product # | Unit | Price* | Add to Quote / Order |
| --- | --- | --- | --- |
| 29-002175 | pkg/5 | €43,50 | |